---
Chapter 45
My Friend Jack Shock
Jack was a very large man, and capable of being very aggressive. When he was young he enjoyed a good fight and had a considerable advantage due to his size and strength. I never saw him fight but suspect there was little finesse to his method. He was 220 pounds and six feet three when he graduated from high school but became corpulent with age. He was a good basketball player in his younger years.
As he became older he became a good debater and had an unusual ability to "cogitate," think things over for days and work out details that were not obvious at first. Although his language and appearance did not impress, he was a formidable thinker, given time for things to ferment in his mind. And he was quite as aggressive with his ideas in later life as he had been in athletics earlier.
His father was a welder. I remember going with my father to Shocks to get repairs for farm machinery when only a child. Jack went to Lost Creek High School and I to Unidis High School, located at Lost Creek and West Milford respectively. We didn't have any contact until we became adjacent landowners when the Jesse Run farm was purchased. Jack inherited/purchased the farm where his house and barn stood. I say inherited/purchased because there were other heirs to buy out.
Upon graduation he went to Akron (like so many West Virginians – Akron was referred to as "the biggest West Virginia town outside of West Virginia" – a common saying at the time, because it was a major destination for migrants). Most went there for the tire industry, and he worked as a machinist for Goodyear. I remember his talking about turning aluminum "biscuits" on a lathe to make moulds for airplane tires. Black-white race problems were at a maximum at that time, and a lot of fighting occurred between the races while he was there, with him getting his share of it.
The job paid very well, and he lived cheaply and used what he made to buy land up the hollow from the farm he inherited an interest in, eventually accumulating over 600 acres, part of it adjacent to the farm we purchased on Jesse Run. All of it was grown up, and in the early years he worked hard to kill brush using the same 2,4-D and 2,4,5-T brushkiller I used. It cost $10 something a gallon, and we both used a sprayer that consisted of a 55 gallon barrel, a pump and a few feet of hose. This was a good arrangement for a Ford 8N tractor.
Jack used his spare time to study the pioneer era in West Virginia. He knew every story in "Border Warfare," the McWhorter book, and could point out the graves around Lost Creek mentioned in it. I think he would like to have gone against the Indians himself. He was particularly proud of the fact that his ancestor who had come to America was one of the Hessian troops that England's King George III hired to fight in the Revolutionary War, one of many who had decided to stay on in the new United States after the war was over.
Jack never had another job after he came back to farm. Velma, his wife worked at the glass plant in Jane Lew. She was a thin lady, but very strong and strong willed. She became active in the union at the glass plant where she worked in later years. Jack never made a lot of money farming (no one did), but enough to "hang in there." I suspect they lived on Velma's income, while he farmed, just as we lived on Esther's and my teaching income, while I farmed. Jack used an 8N and a little John Deere crawler tractor most of his life. He could do that, because he was enough of a mechanic to rebuild them when needed. The 8N had wet sleeves in the cylinders, and could go on forever. There are still a few of them around, fifty years old. Late in life he bought a large David Brown, used, from Johnston Equipment that gave him more power and the ability to move round bales.
In later years, Jack and Velma's son, Mike, had become a very successful welder, and moved around a lot. He had a series of interests and a very good income. He got interested in skydiving. He offered to pay for his mom and dad to try it. Jack, the tough guy, but very heavy, refused the offer. Velma, wiry, and probably every bit as tough as Jack, actually jumped out of the plane with a parachute. I think she gave Jack quite a hard time about it.
Mike also kept about a half dozen buffalo on the Shock farm. Hugh Davis helped Velma a lot with them after Jack died. Mike was always away working, and Hugh made the hay a while before and after Jack died, and sometimes fed it, and fixed fence. He helped get the cows and buffalo back in when they got out – he had a splendid horse to work them with, and helped sort the buffalo, and so on. They got out in my field once and I wouldn't even go in the field with them, because they were so large and powerful, and so touchy. Once the bull buffalo got all the way to Rockford. They were able to get him into the Randolph barn. When they couldn't lure him out onto the truck to take him home, Hugh Davis and Mike Shock went in the stall with him. Hugh slapped the bulls hip, as he would with bovine cattle. The bull turned, brushed Hugh's thigh with a horn and opened a large blood vessel in his leg.
Velma and Mike got Hugh to the hospital in Clarksburg and helped stopped the bleeding, but the hospital was unsure of the risk of infection, because of the manure in the barn and the fact the injury was caused by a horn. Hugh had to be taken by Life Flight helicopter to the university hospital in Morgantown, to deal with that. Hugh only missed church one week, though. Tough guy! Shortly after this happened, the Shocks sold the buffalo.
Most people who own the surface of the land don't own the oil and gas rights, in other words, the right to lease the land for production of oil and gas. This is referred to as "having the oil and gas separated." For example, the oil and gas rights to the farm where we live belong to the heirs of Dr. Fleming Howell, who owned the farm before Carroll and Ressie Bond, our predecessors in title, owned it. That's 80 years since the farm and the oil and gas belonged to the same party.
When Consolidated Gas Company put in the Lost Creek Storage Field, Jack owned the oil and gas, but it was leased to them. Jack, like almost everyone else, hated Consolidated, the heir to Hope Gas, and the Rockefellers. He was so obstinate in refusing to let them come on his property for storage, they simply declared his property to be out of the storage field. When the flare came out of Jim Hoover's well (see below) Consolidated was forced to admit the storage field came under Hoover's lot, and Jack's property which was adjacent. They compromised by giving back Jack's oil and gas drilling rights, and agreed to case off any well that went through the storage sand. He leased it to Senator Mike Ross, a very powerful independent oil and gas producer who was also a state senator. Ross couldn't extract gas from Consolidated Gas' storage field, but drilled through that seam and produced gas from a lower seam.
Jack is known to more people by the sign on his barn, visible from the highway, than by anything else. It says "CONSOLIDATED GAS - LEGAL THIEVES - A ROCKEFELLER CORPORATION" This is a reference to the ability of Consolidated to buy any legislation they wanted, regardless of the effect on individuals and smaller companies, and to the fact it was derived from a company, Hope Gas, founded by the first John D. Rockefeller. The sign is clearly visible from the interstate and has outlived both Jack and Consolidated. Jack died a few years ago, and since then Consolidated has been purchased by Old Dominion, a Virginia power company which goes simply by the name Dominion here, presumably to ease the invidious pride of many West Virginians. Velma keeps the sign up.
(Illustration 45-1)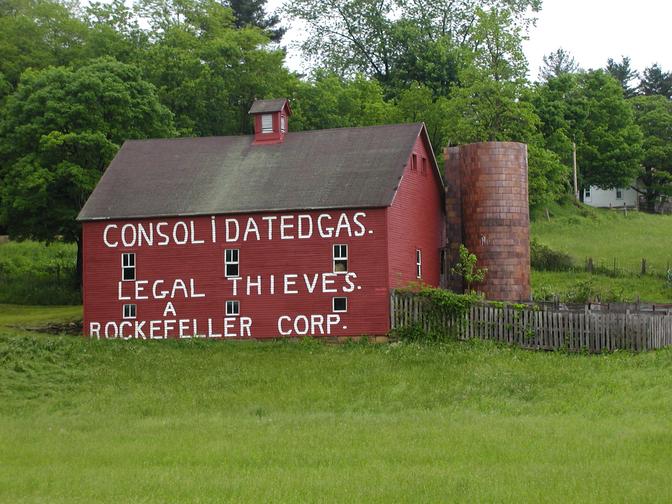 The Rockefellers continued to be principal owners of Consolidated until it was sold to Old Dominion. A fellow by the name of Pratt was a news reporter on one of the Clarksburg TV stations for several years. When John D. Rockefeller IV purchased the governership of West Virginia, he hired Pratt to drive his limousine and act as an intermediary with the public. Rockefeller had to ride by that sign every time he went up or down I-79. One time he had the car stop and looked at the sign a while. Then he told Pratt, "That sign has got to go!" When he consulted with his lawyers, though, it was protected by the free speech amendment to the U. S. Constitution, just as Jack knew it would be. The story came to Jack from Pratt himself.
Aside If you think the term "purchased" referring to the governorship of the State of West Virginia is too strong, you should have heard the stories told in the Political Science Department of Salem College at the time by people who worked in the campaign in 1978. I would also recommend the book, "Jay Rockefeller, Old Money, New Politics" by Richard Grimes. Published by McClain Publishing Company of Parsons West Virginia, 1984. (ISBN 0-934750-31-9) To be honest, though, that pretty much is the nature of West Virginia politics. But the style and magnitude of the contest were unusual.
---
Copyright © 1998, 2006, 2008, 2011 S. Tom Bond (stombond at hughes.net)