---
Chapter 16
Doyle Kittle
Doyle Kittle's dad owned a little farm at the head of Stonepot where the road went over the hill to Mount Claire. The farm itself has now been completely destroyed by strip mining. The land was steep, and the valley was filled in with the spoil of the mining when it was stripped.
(Illustration 16-1)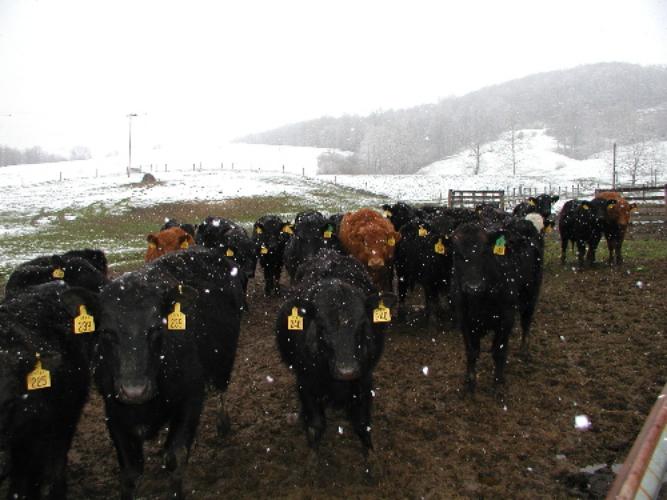 Heifers at Lost Creek farm in the snow
Mr. Kittle, as we referred to the older man, lived there many years with his wife who died before my recollection, and raised a family. The Kittle's farm did not have enough land to keep two men busy in productive work, and Doyle, who was a little younger than Dad, needed to find work.
He and Dad were a good match. Both were young and athletic, and loved to work. He helped while Dad had the dairy, and when needed, his father came down, too. One of the stories about Doyle that Dad liked to tell was this one: The knob (the steep top of the hill) had grown up and needed cut. He told Doyle that anything he did not get cut with the horse mowing machine he would have to cut with a scythe. Doyle took it as a challenge. Dad would laugh and tell that Doyle mowed almost all of it. "All except a little patch on the backside." On very steep ground the operator walked behind the machine, rather than riding it, controlling the horses with the lines. This puts the center of gravity way down, and made the mower lighter.
Doyle's horses were well trained, and eventually the mower did turn over. (Pretty hard to do, required very steep ground.) There was no harm, and the horses knew to stop and stand still when the mower went over, rather than to bolt. Doyle got the mower turned back over, held it down for a few yards, and went on.
When Aunt Lotta's house was built, it was decided to use the good well in the barn. For some reason or other, the line from the Meyers piston pump in the basement of the house had to be kept level. This meant the ditch that went into the barn had to be six feet deep at the barn. The two men worked on it for a long time, and eventually the ditch was six feet deep at that end. For those of you who haven't had much experience with a pick and shovel, let me explain that you can dig a ditch about a foot and a half deep with out standing in it. But if you want to go deeper you have to make it wide enough to stand in, so the six foot ditch must have been about two and a half feet wide at the top and down to four and a half feet.
Doyle was a man of splendid good character, too. Eventually the dairy drew to a close and Doyle had to go to work in a glass factory in Clarksburg.
Mr. Combs was an elderly man who helped after Doyle got more stable and remunerative work. His character was impeccable, too, and we kids were around him a lot. He was slow and sometimes exasperated Dad, because when he ran out of other work, he would straighten nails that had been pulled out in tearing down old buildings. Of course, used nails frequently bend when used again.
Aside When I was a kid Dad often took me along when he hauled cattle for other people. One of the unusual delights was to visit the little farms owned by Italian-American farmers. These were often very small places, which they operated much like the ones they had known in Italy when they were younger.
The principal difference, as Dad liked to point out, was that they made much better (more intensive) use of their land than "Americans" did. When they had a grape arbor, which looked just like the one my aunt and grandmother had for their Concord grapes, they would have a second, shade tolerant, crop growing under the grapes. They managed to double crop, rather than having only one crop from a piece of ground in a year. Residue from crops, tree leaves, and other vegetable waste was used as mulch or incorporated in the ground. Animal waste went into the soil without standing for a year, like it did on many of the farms I was familiar with. Now the methods used in farming by the Italian immigrant's grandchildren I know are mainstream.
I have known two Dutch farming families. Both were in dairy, and in those families every member nearly worked him/her self to death.
In these sixty years I have seen only one Black farmer. His farm was on Lowndes Hill. As You Go up 2 nd Street past Lowndes Hill in Clarksburg, there is a sharp right turn, with a large water tank on the left. The road straight ahead was open when I was a teenager, past where the tank now stands. Dad and I took pigs on back around the hill to this man's little farm. He kept the pigs on excess food and waste from bussing the tables in restaurants in town. It was a good special niche business, but like every thing else in farming, involved a lot of work and initiative.
---
Copyright © 1998, 2006, 2008, 2011 S. Tom Bond (stombond at hughes.net)